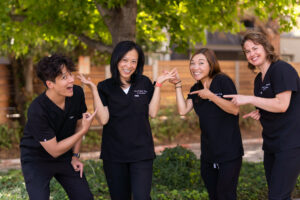 At Live & Smile Dental, we love seeing all of our patients smile confidently. We strive to help with all of the dental needs and repairs to make sure you have a healthy and bright smile. Not only does your smile look amazing after your cleaning appointments, but just smiling in general is good for you too! 
When you smile, your brain releases tiny molecules called neuropeptides to help fight off stress. Then other neurotransmitters like dopamine, serotonin, and endorphins come into play too. Dopamine helps with blood flow, serotonin is an antidepressant, and the endorphins are a natural, mild pain relief. Studies show that smiling can help lower blood sugar and blood pressure, reduce stress, and boost immune systems. Some people may believe that smiling helps prolong your lifespan. Who knew that smiling would have so many great benefits besides looking great?! 
We love to see all of your beautiful smiles, so don't forget to come in for your biannual teeth cleaning or even to purchase some teeth whitening trays to help brighten the smile!
Leave a Reply