September 26th, 2022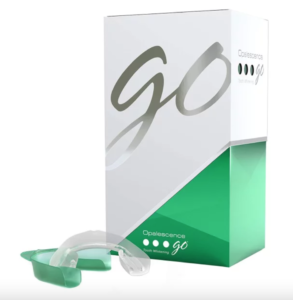 We love seeing our patients smile proudly from the great work our Live & Smile team accomplishes. To keep our patients' smiles looking nice and bright, we recommend an option that you can do right in your own home! 
We want to introduce the Opalescence Go Teeth Whitening trays! This is a great option when you are on the go and want a quick whitening or to gradually get the shade of brightness you are happy with. 
Opalescence Go is a pack of 10 trays that are prefilled with whitening gel. No impressions or molds are required to obtain this whitening treatment. Each pack of trays are packaged individually so they are ready to be used right of the box. The UltraFit trays are designed to conform to any smile, so you are able to move the tray around your teeth to maximize the whitening gel. 
A few other great things about Opalescence Go : 
teeth whitening gel contains potassium nitrate and fluoride for patient comfort

Vegan—no animal products used

Certified gluten free

Certified kosher
Most patients are able to use Opalescence Go, however we do recommend you speak with your dentist to make sure that this is the right product for you. There is a potential risk of teeth sensitivity or gum sensitivity if the gel is left on for too long or reaches the gums. Please read all instructions before starting the trays. 
As always, we are more than happy to answer all of your questions in regards to Opalescence Go, so next time you're in the office, just let us know. We would be so glad to help you on your smile journey!